Carolina Beach – September, 2020
Lewis, of Island Tackle and Hardware, reports that surf anglers are catching some large pompano, croakers, and whiting with shrimp-tipped bottom rigs.
Red drum are scattered along the beaches, and they're hitting Carolina-rigged cut mullet.
In typical summer fashion, there have been plenty of small sharks around. They're also feeding on cut baits.
Flounder are mixed in the surf counts, with some days seeing almost all keeper-sized fish, and the next, mostly shorts. Shrimp and live baits have both been best for the flatfish.
Speckled trout are being caught around deeper holes inside the inlet. Live and imitation shrimp lures are both providing the most strikes.
Red drum are feeding on cut and live baits from deeper inshore cuts and creeks into the Cape Fear River. A few of the larger fish are being caught on the riverside, where most of the bait schools have been staged.
Docks and similar structure have been holding good numbers of sheepshead and black drum. Both species are hitting live fiddler crabs.
A few bluefish are pushed inshore and hitting live baits and soft plastics intended for other species.
Nearshore anglers have been finding spanish mackerel holding very tight to the beaches (15' depths) while trolling Clarkspoons and casting jigs to surface-feeding schools.
King mackerel have been scattered over the past few weeks, with most fish pushed into the 12+ mile range. Fishing structured areas in this zone is also producing barracuda, sharks, and black sea bass off the bottom.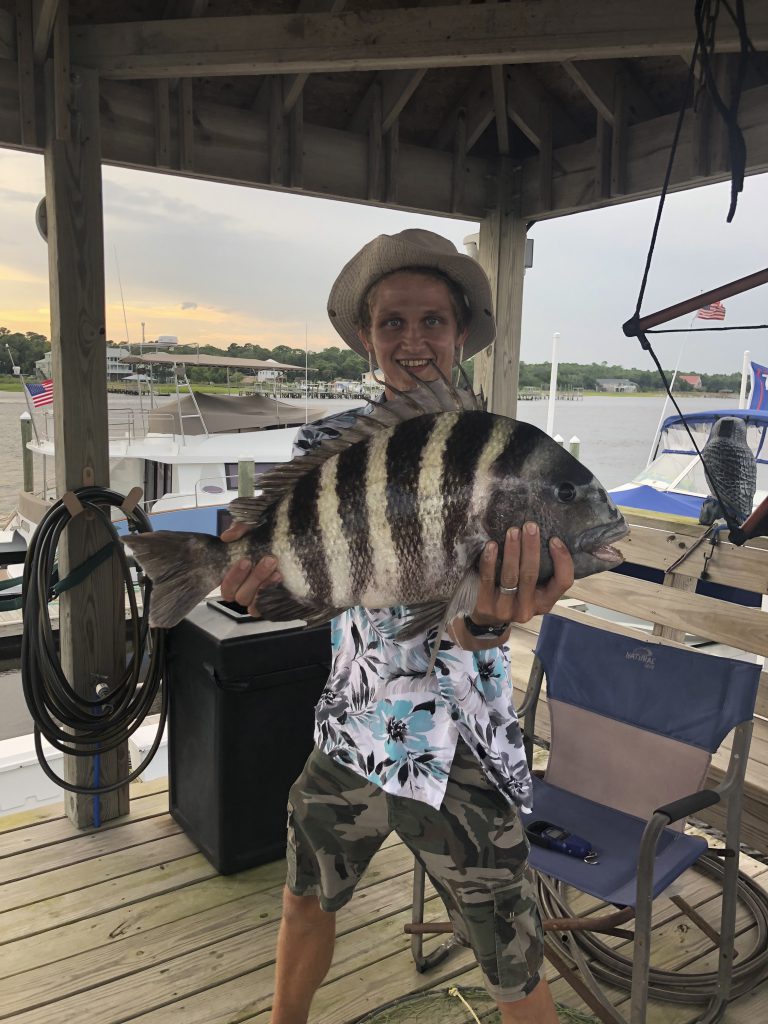 Christian, of Seahawk Inshore Fishing Charters, reports that flounder fishing has been very good since the season opened. Working the high-tide cycles has been best with the flatties pushed up against grass banks of the spoil islands in the river. Hooking live mullet on 1/4 oz. jig heads is a great, low profile rig for getting action.
Black drum numbers have been strong this year, though a majority of them are just shy of 14". Anglers anticipate this leading to great upcoming seasons.
Slot-sized red drum have also been caught in good numbers throughout the river. Anglers are having success working the spoil islands with soft plastics and live baits on jig heads.
Large over-slot red drum are sporadically being caught around the mouth of the Cape Fear and out to the nearshore reefs. Over the next month, the bite should get better as more bait congregates at these areas.
Luke, of Spot On Charters, reports that the flounder bite has been hot from around inshore spoil islands out to nearshore wrecks. Many of the larger flatfish are coming from inshore waters, with Carolina-rigged mullet producing the best action in both areas
Slot-sized (and a few over-slot) red drum are feeding around deeper grass lines from the inlet back into the river.
A few speckled trout are mixed in the counts, with numbers being good compared to a typical summer. The trout have been actively hitting topwater plugs in the early mornings.
Tommy, of Mungo Fishing Charters, reports that inshore fishing has picked up now that the water is cleaning up after the last storm.
Flounder are being caught from grass banks and creek mouths out to the nearshore reefs. Both live bait and soft plastics are getting strikes.
Red drum fishing has been good, with fish hitting topwater plugs early, and then preferring bottom-rigged baits as the afternoon pushes in.
A few speckled trout are in the mix, and they're mostly being found along grass banks in the early morning.
Rod, of OnMyWay Fishing Charters, reports that spanish mackerel fishing has been consistent in the 30-40' range. The schools of fish have pushed into the areas of nearshore reefs, and they are feeding on all the bait around.
King mackerel have mostly pushed out into the 20 mile range. Slow trolling live baits and dead bait rigs are both having success. Finding bait has been key in locating the kings, which are mostly suspended over rocks and ledges.
A few mahi are taking these same baits at around 20 miles out. The typical summertime pattern is for these mahi to push inshore with the hot water. Any bites tend to be sporadic and spread out unless finding some sort of floating debris.
Some nice sailfish are also a welcome surprise to anglers trolling out between 18-20 miles.
Most of the bottom fishing action is a bit deeper as the fish seek cooler water. The 20-40 mile range is holding keeper black sea bass, beeliners, porgies, and grouper.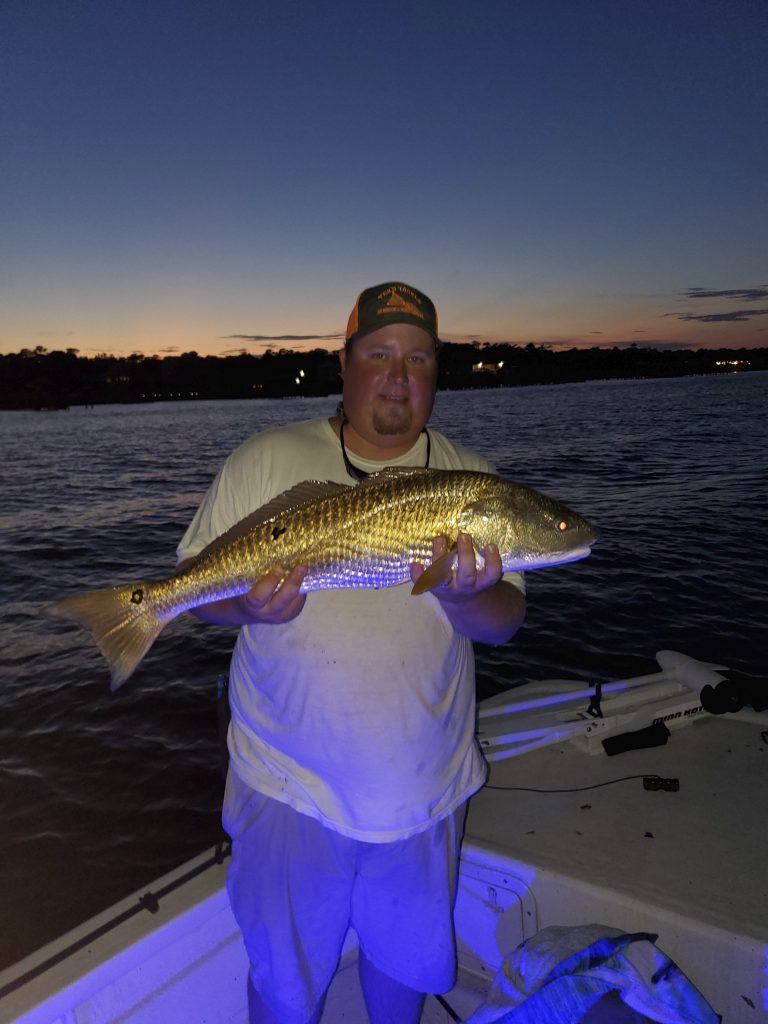 Woody, of Kure Beach Pier, reports that spanish mackerel have been biting well despite the hot water temperatures. Anglers have had the most success sight-casting to surface-feeding schools early and late in the day.
Bottom fishing has been producing steady action on croakers and whiting.
A good number of keeper flounder were landed on opening week, with live bait getting most of the action.