Hatteras/Ocracoke – September, 2020
Jack, of Hatteras Jack, reports that surf fishing is in a summertime pattern, dominated mostly by bottom fish. A mix of sea mullet, bluefish, spot, pompano, and croaker are all hitting the go-to fresh shrimp on bottom rigs.
On some days, spanish mackerel are pushing within casting distance, with the early and late hours providing the best chance.
Sound fishing remains good, with speckled trout (up to 3+ lbs.) hitting Z-Man and similar soft plastics under popping corks.
Getting these same soft plastics on the bottom with simple jig heads has been getting action from flounder and puppy drum.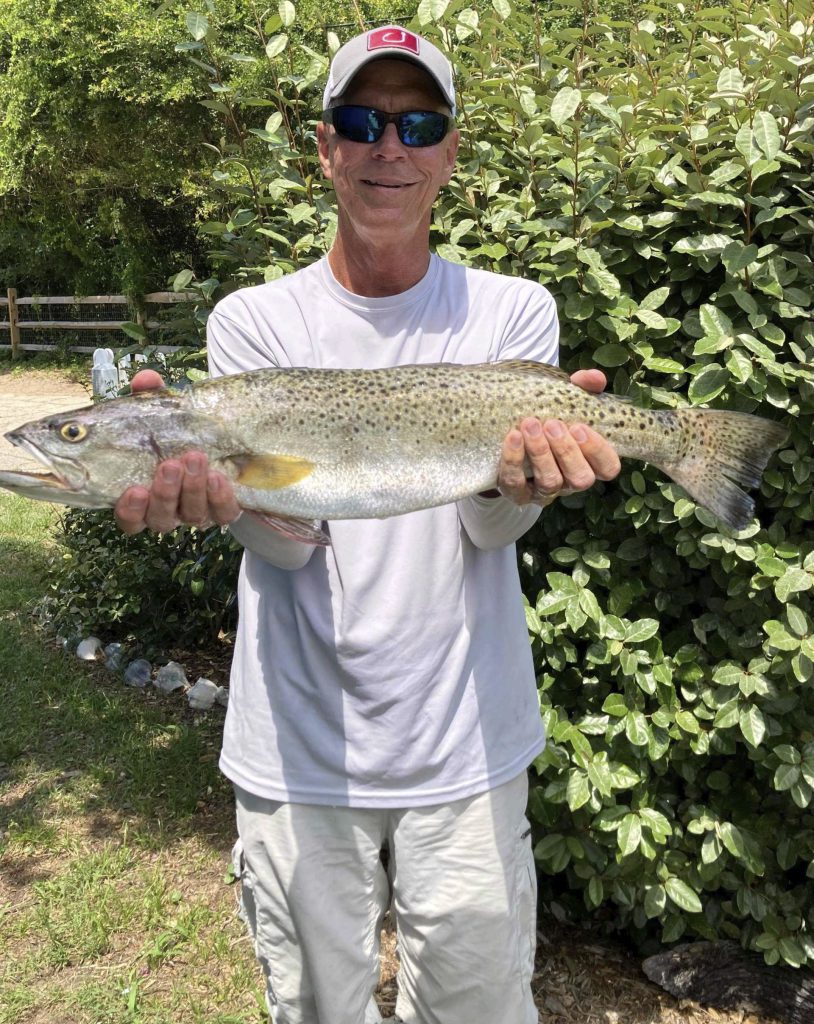 Jim, of Rodanthe Pier, reports that the mid-summer heat has fishing a bit slow, with mostly sea mullet coming over the rails.
Anglers towards the end are catching scattered spanish mackerel and large kings (up to 22 lbs.).
Heather, of Frank and Fran's, reports that bluefish and spanish mackerel are providing a nice break from bottom fishing for anglers around Buxton. Sea mullet, croakers, and spot have dominated the surf counts, though.
Some bonus pompano are being caught in deeper wash areas throughout Frisco.
Red drum are passing through the area, so it is no surprise when anglers land stray over-slot fish (up to 52").
Flounder and good-sized speckled trout (up to 22") are hitting soft plastics fished along grass banks and ledges.
Cameron, of Frisco Tackle, reports that schools of spanish mackerel are pushing within casting distance of surf anglers. Most often the fish are more active early and late in the day.
Bottom fishing has been steady, with fresh shrimp working well for sea mullet and croakers.
Flounder season finally opening has anglers excited to seek out keeper fish. Both soft plastics on jig heads and Carolina-rigged live baits bring the best chance of success.
Hoopdee, of Teach's Lair, reports that sound fishing trips have been experiencing a great speckled trout bite. The fish are pushed up on grass banks and channel ledges, and they're hitting live bait and soft plastics under popping corks.
Gray trout are being caught with jigs fished in deeper channels just inside the inlet.
Large, over-slot red drum are feeding on cut baits fished on ledges and shoal edges throughout the sound. This action is really just getting started, and the next few weeks should wield many more reports.
Surf anglers are catching spanish mackerel and bluefish from late afternoon into the evening, but pompano and whiting have held a majority of the bottom fishing action.
Offshore fishing has been steady for what is typically a slower month (August). Wahoo have been the main target species, being caught on both high-speed trolling rigs and skirted ballyhoo.
Scattered mahi and blackfin tuna are striking the same skirted offerings.
Anglers taking a break from trolling are landing limits of triggerfish.
Joey, of Fingeance Sportfishing, reports that trout fishing has been awesome all summer. Recent trips are having success with popping corks and Z-Man soft plastics (in particular, the "bleeding banana" color).
Slot-sized red drum are being caught by sight-casting on the flats and fishing Carolina-rigged cut baits.
A few cobia are hanging around the inlet, and they're being caught on cut baits fished in deeper channels.
Plenty of bluefish and spanish mackerel are feeding on baits just off the beaches.
Jay, of Bite Me Sportfishing, reports that billfishing has been steady, with anglers getting a shot at sailfish, blue marlin, and white marlin.
Good-sized dolphin are being caught under grass, mostly coming from way deep, and high speed rigs are producing some wahoo action.
Deep-dropping around rocks and structure is getting anglers hooked up with tilefish, grouper, and triggerfish.
Jeremy, of Calypso Sportfishing, reports that bottom fishing has been a nice break for anglers looking for something different from long days of trolling. They are finding wide open action on triggerfish, vermilion snappers, and large black sea bass all hitting cut baits.
Some large, citation-class wahoo (up to 50+ lbs.) are hitting their favorite skirted baits fished behind planers.
Mahi fishing is sporadic, but some trips are doing very well. Finding some sort of flotsam or weeds has been key in finding action.
Billfishing has pushed a bit north of the area for the time being, with scattered sailfish still being a bonus catch.
Jessie, of Carolina Girl Sportfishing, reports that wahoo fishing has been steady, even through the toughest part of the summer season. Anglers are finding action while pulling both high-speed lures on the way out, then flipping over to the ballyhoo with Sea Star and Ilander skirts. The wahoo have been responding best to darker skirts, such as combos of blue, black, and purple.
Scattered mahi, blackfin tuna, and yellowfin tuna are mixed in the counts coming off the ballyhoo.
Bottom fishing has been phenomenal, with a good variety of triggerfish, tilefish, grouper, and snapper all hitting cut bait on deep drops.
Over the next few weeks, the slight drop in water temperatures will fire the trolling bite back up. Both wahoo and tuna will begin to show up in better numbers as a defined break begins to set up offshore.
Alan, of Tradewinds Tackle, reports that surf fishing has been solid for the typically slower August month. Pompano fishing in particular has been great all summer, with smaller baits cast into the deeper troughs producing action.
A variety of sea mullet, puppy drum, and flounder all feed in these deeper sections of the wash out to holes between the sandbars. Fresh shrimp is a great bait to provide action for all the above species.
On the sound-side, anglers are catching flounder and speckled trout along grass banks and ledges.
Citation-class red drum are being landed with cut baits around the inshore shoals.
Spanish mackerel are being caught from areas around the inlets and along the beaches. Trolling spoons is the go-to method for getting the spanish to strike.