Northern Beaches – October 2020
Betty, of TW's Bait and Tackle, reports that area beaches are seeing more consistency out of spanish mackerel and bluefish schools inside the sandbars, and bottom fishing anglers are catching good numbers of pompano and sea mullet.
Flounder, spot, and croaker are mixed in alongside the other bottom feeders, and puppy drum are being caught from Corolla down to Nags Head on fresh cut bait.
Sound-side anglers are experiencing good action on puppy drum while fishing live and cut baits on flats around the inlet.
Smaller speckled trout are being caught around grass banks and oyster beds from the inlet up to the Little Bridge area. Flounder are scattered around the sound, and they're hitting live baits and soft plastics on ledges and grass banks. A few stripers are being caught around bridge pilings near Manteo.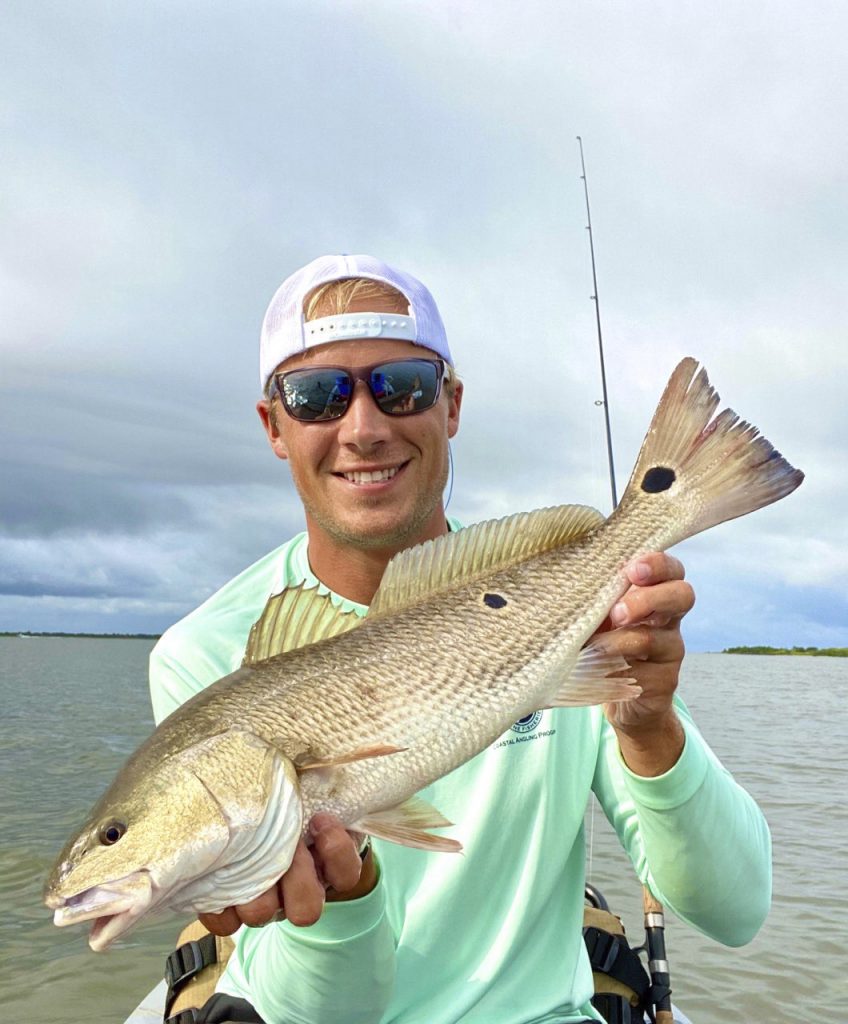 Nearshore anglers are catching a wide variety of spanish mackerel, bluefish, ribbonfish, false albacore, kings, cobia, and a few mahi.
Offshore action is also picking up, with a mix of yellowfin tuna, blackfins, mahi, and billfish all in the daily counts.
Bridgette, of Oregon Inlet Fishing Center, reports that yellowfin and blackfin tuna are showing up in better numbers as the weather cools. Holding out deep with the tuna are a mix of big blue marlin and citation white marlin.
Good-sized mahi have begun to show back up in the area, as the fish are becoming more concentrated. Scattered wahoo, sailfish, and large kings are all holding out near the temperature breaks.
Nearshore trips are landing ribbonfish, spanish mackerel, and over-slot red drum along the beach.
Anglers working the flats are having great success with large speckled trout and good numbers of puppy drum. The deeper channels and inlet area are holding schools of spanish mackerel and bluefish.
Laurie, of Pirate's Cove Marina, reports that billfishing remains strong on offshore trips, with anglers seeing a good mix of white and blue marlin releases. Recent trips are returning with full boxes of gaffer-sized mahi, and a few (smaller) yellowfin tuna are in the counts. Anglers look forward to tuna fishing picking up into October.
Nearshore anglers are finding scattered mahi and king mackerel on the mid-range trips.
A few large cobia are being caught by sight-casters from the inlets out along the beaches.
Trolling the beaches has been producing ribbonfish, spanish mackerel, false albacore, and bluefish.
Bottom fishing from the inlet into inshore channels has seen flounder and sea mullet. Bluefish are in these same areas. They're surface-feeding on bait schools, and can be targeted with casting jigs.
Speckled trout and puppy drum action has been great and will only get better going into fall.
Aaron, of Carolina Sunrise Charters, reports that flounder are readily hitting live finger mullet fished along bridges and structured areas.
Speckled trout fishing continues to improve in both numbers and sizes. Targeting the mid-water column with a variety of soft plastics on 1/4 oz. jig heads, popping corks rigs, and live baits have all been getting strikes.
Slot-sized puppy drum have made a strong showing on the flats and ledges, and they're hitting Carolina-rigged cut mullet.
Gerry, of Fishing Unlimited, reports that little bridge anglers bottom fishing are catching a mix of mullet and spot on pieces of shrimp.
Small speckled trout are being caught with shrimp and soft plastics. The next few weeks should see a good run of speckled trout as water temperatures cool. Fishing early and late is always preferred when targeting the specks.
A few striped bass will be mixed in alongside the trout, with similar fishing times being productive, and flounder are hitting soft plastics and live baits dragged along the bottom.
Andy, of Nags Head Pier, reports that bottom fishing has been dominated by a mix of spot and good-sized sea mullet. Fresh shrimp has been the top producing bait, with Fishbites strips, squid, and sand fleas also getting bites.
Anglers fishing cut baits are catching puppy drum and bluefish.
Schools of blues are feeding on the surface, and casting jigs and Gotcha plugs have been productive.
Justin, of Avalon Pier, reports that good numbers of puppy drum (up to 24") are hitting cut finger mullet. Pompano and sea mullet are being caught on bottom rigs tipped with shrimp, and a few sheepshead are hitting shrimp and sand fleas fished on small Carolina rigs.
Schools of spanish mackerel and bluefish are falling for Gotcha plugs in a variety of color patterns.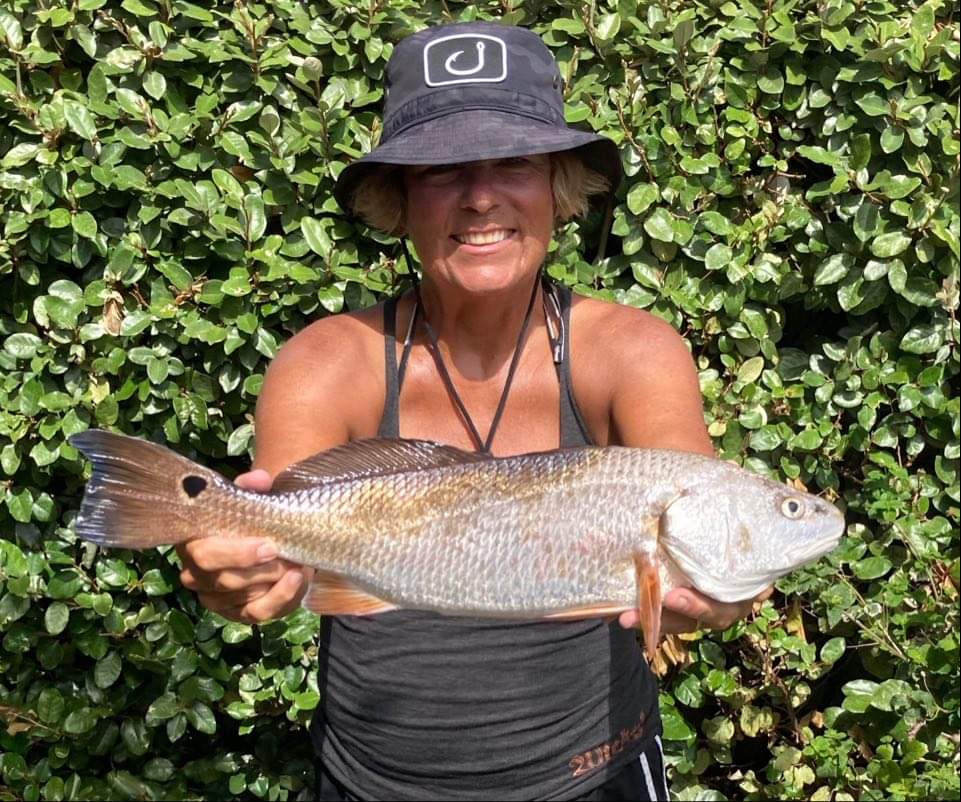 Jeff, of Albemarle Fishing Charters, reports that scattered flounder are still holding through the area, and the flatfish are hitting soft plastics and live bait fished on the bottom.
Surf fishing has been picking up as temperatures cool. Bottom fishing is producing pompano, sea mullet, flounder, and spot. Puppy drum are beginning to show in the surf, and they will get even more active as they push out of the inlet in the coming weeks.
Bluefish are also getting thick, as are the baitfish schools running along the beaches. Casting jigs work great when targeting surface-feeding schools.
Paul, of Bob's Bait and Tackle, reports that surf anglers have been pleased with the recent run of puppy drum in the surf zone. Carolina-rigged cut baits have been most successful for the 12-26" drum.
Bottom fishing deep holes along the beach has been producing sea mullet, spot, and a few croakers. Scattered flounder and being caught on soft plastics and bottom-rigged baits.
Bluefish schools are getting more common as water temperatures drop from mid-summer highs.
Sound-side anglers are catching a good mix of flounder, speckled trout, and red drum from the Nags Head area down to the inlet.
Nearshore boats are working just off the beach to land ribbonfish, spanish mackerel, and bluefish.