Northern Beaches – September, 2020
Betty, of TW's Bait and Tackle, reports that bottom fishing has been the main source of action for surf anglers on both the northern and southern Hatteras beaches. Pompano, sea mullet, spot, and croakers have been feeding on fresh bait shrimp, sand fleas, or artificial bait strips.
Puppy drum are being caught from the beaches near Oregon Inlet.
Spanish mackerel and bluefish are around, though sporadic baitfish numbers have the bite hit or miss, and smaller sharks are feeding on Carolina-rigged cut baits.
Anglers fishing in Pamlico Sound are catching flounder and red drum with both bottom-rigged live baits and soft plastics.
Speckled trout are being caught on grass flats near the inlet with live shrimp or soft plastics under a popping cork.
Sheepshead and black drum are feeding on shrimp fished near bridges, channel markers, and inshore oyster beds.
Ribbonfish and bluefish are hitting Clarkspoons trolled behind planers just off the beach, and fishing nearshore structure with cut baits is producing black sea bass and triggerfish.
Anglers going offshore out of Oregon Inlet have seen a great run of white marlin. Mixed in are mahi, wahoo, and blackfin tuna. Limits of tilefish are also a nice addition to the offshore fish counts.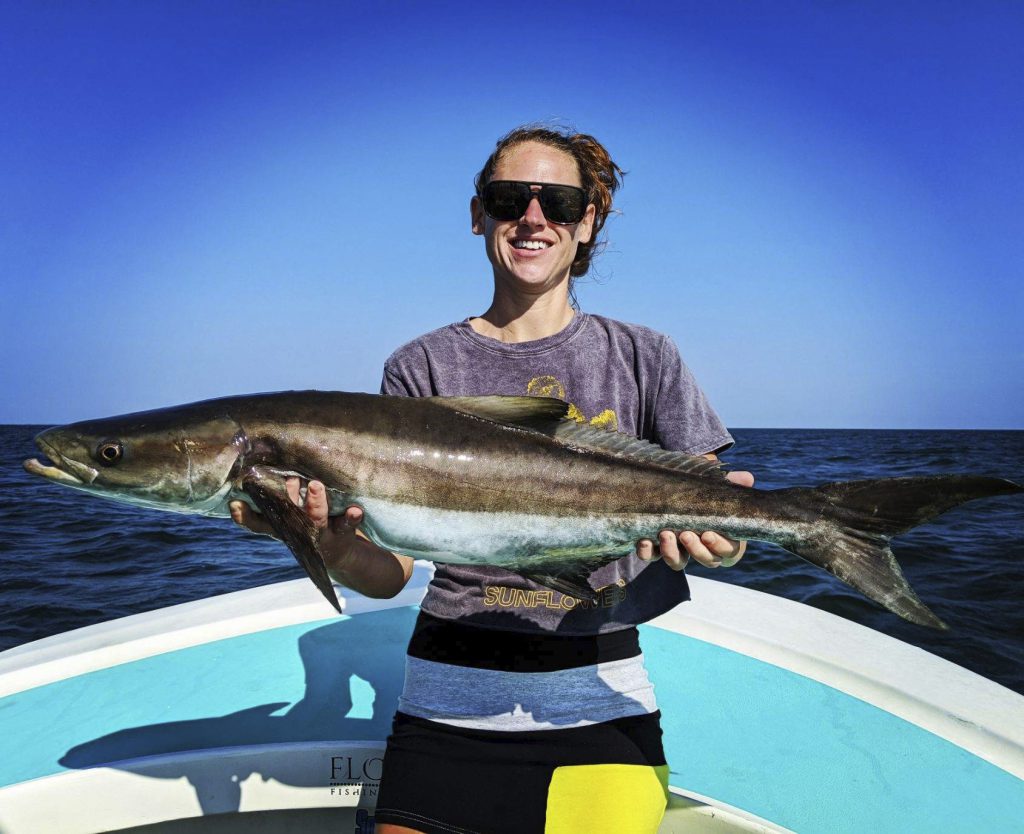 Bridgette, of Oregon Inlet Fishing Center, reports that offshore anglers are finding the recent bill fishing bite being on fire, with a good mix of sailfish and white and blue marlin. Blackfin tuna and mahi round out the counts from offshore boats returning to the dock.
Bottom fishing stops during full day trips are producing tilefish and large black sea bass.
Closer to the beach, anglers are finding spanish mackerel and false albacore, and sight casters are also keeping an eye out for schools of over-slot red drum that are moving through the area.
Inshore charters are catching flounder, speckled trout, and red drum.
Laurie, of Pirate's Cove Marina, reports that inshore anglers continue to have a great season on speckled trout. Alongside the trout have been slot-sized red drum and flounder being found in similar inshore areas.
Inlet bottom fishing trips are catching flounder, sea mullet, and croakers.
Nearshore fishing has been a bit slow with the heat. Recent trolling trips are landing ribbonfish and scattered spanish mackerel.
The real news is the spectacular white marlin bite. Boats are returning with handfuls of release flags, some catching up to eight fish in a trip. Wahoo, mahi, and scattered tuna are mixed in the counts. They're attacking skirted offerings in the spreads.
Bottom fishing deeper structure is producing good numbers of tilefish.
Aaron, of Carolina Sunrise Charters, reports that inshore anglers are experiencing great red drum and trout fishing. Fishing Carolina-rigged live baits on shallow grass flats behind the inlet is proving successful for both species.
Sheepshead are being found on barnacle-covered structures, such as bridges and channel markers.
Anglers working nearshore waters into deep inlet channels are still finding good numbers (for late summer) of cobia and large drum. Both species are being targeted by sight-casting large Meathog and similar bucktails around bait schools and rays.
Billy, of Fishing Unlimited, reports that action at the little bridge has been good despite the high water temperature. A good mix of croakers, puppy drum, and flounder are all feeding on fresh shrimp fished on the bottom.
It has been a great year for speckled trout, with anglers fishing early and late in the day consistently landing a few fish. Soft plastics and live baits have been an angler's best bet for trout action.
Andy, of Nags Head Pier, reports that fishing has picked up with the water beginning to clear up after recent storms. Bottom fishing has been best, with good-sized sea mullet and spots hitting fresh shrimp and Fishbites bait strips.
Flounder are being caught on Carolina-rigged live bait.
Bluefish have been a bit scattered with the dirty water, but they are still hitting bottom-rigged cut baits fished on the bottom. When schooled up on the surface, Gotcha plugs are getting a few strikes.
Justin, of Avalon Pier, reports that bottom fishing is producing most of the action for anglers working the planks. Good-sized sea mullet (up to 2+ lbs.) and spot are feeding on pieces of fresh shrimp.
Spanish mackerel fishing is picking back up after a slowdown from the mid-summer heat spell, but most anglers looking to sight-cast jigs and Gotcha plugs are getting out on the pier early.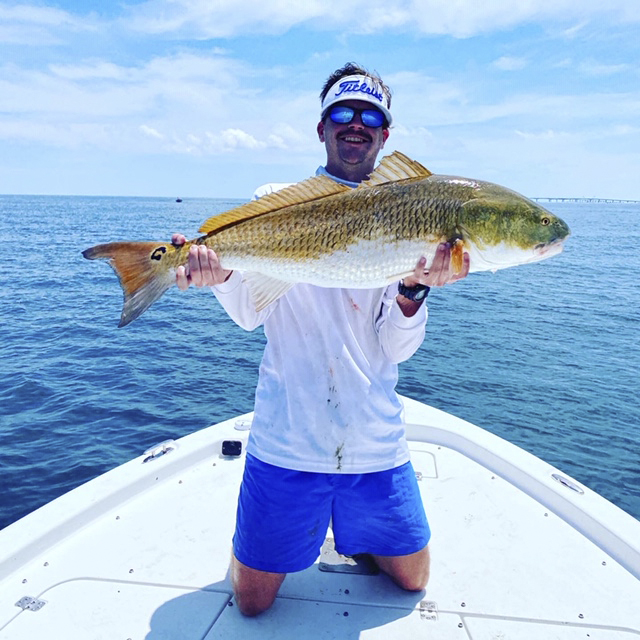 Jeff, of Albemarle Fishing Charters, reports that with recent winds pushing high salinity water into the area, trips in the Albemarle Sound are producing a few flounder and speckled trout. Some slot-sized red drum are hitting soft plastics worked along the structured shorelines.
Surf anglers in the Oregon Inlet area have been experiencing great summer fishing. Bottom rigs with fresh shrimp have been producing sea mullet, spot, croakers, pompano, and black drum. The key to having good action is picking the right spot. Looking for a deep trough or side-shore channel can make all the difference in a day's fishing.
Smaller tailor bluefish are pushing into the surf zone, and they're hitting casting jigs and cut bait.
Flounder are staged in these nearshore troughs, too, striking both live and artifical bait offerings.
Paul, of Bob's Bait and Tackle, reports that surf anglers are seeing a steady bite on sea mullet, spot, croakers, and pompano.
Flounder, red drum, and a few speckled trout are also mixed in the surf counts. These species have preferred the action of soft plastics and live baits.
In the sound, anglers are catching good numbers of speckled trout and slot red drum on the flats around the inlet.
Fishing cut baits in deeper channels and holes has been producing some cobia and over-slot red drum.
Just off the beaches, trolling spoons is producing ribbonfish, spanish mackerel, and bluefish.