Ocean Isle/Holden Beach – September, 2020
Jeff, of Ocean Isle Fishing Center, reports that flounder fishing has been on fire for anglers taking advantage of keeper season. Both inshore holes and nearshore structured areas are producing limits of fish. Carolina-rigged live baits have been the go-to setup, followed by soft plastics on jig heads and bucktails.
Red drum are feeding on the finger mullet that are beginning to shift around the inshore waters. Look for the reds in deeper areas and grass banks along the ICW.
Black drum and sheepshead are staged around docks and oyster beds, and they're hitting live shellfish.
Brant, of Ocean Isle Fishing Center, reports that king mackerel fishing has been steady, with most fish pushed off into the 15 mile range. The bite was slowed over the heat of August, but as temperatures dip, the fish will push back towards the beaches in search of bait fleeing the inlets.
Spanish mackerel are being caught along the beaches, with the same bait run starting over the coming weeks to ramp up the bite.
Offshore fishing is still seeing scattered fishing with water temperatures making it difficult to locate a good break. Some of the more consistent action has been locating smaller mahi that are holding tight to weeds and floating debris.
Wahoo and a surprisingly great sailfish bite have held most of the trolling action from the break into 120' areas.
Bottom fishing remains strong for grouper, amberjack, and large barracuda.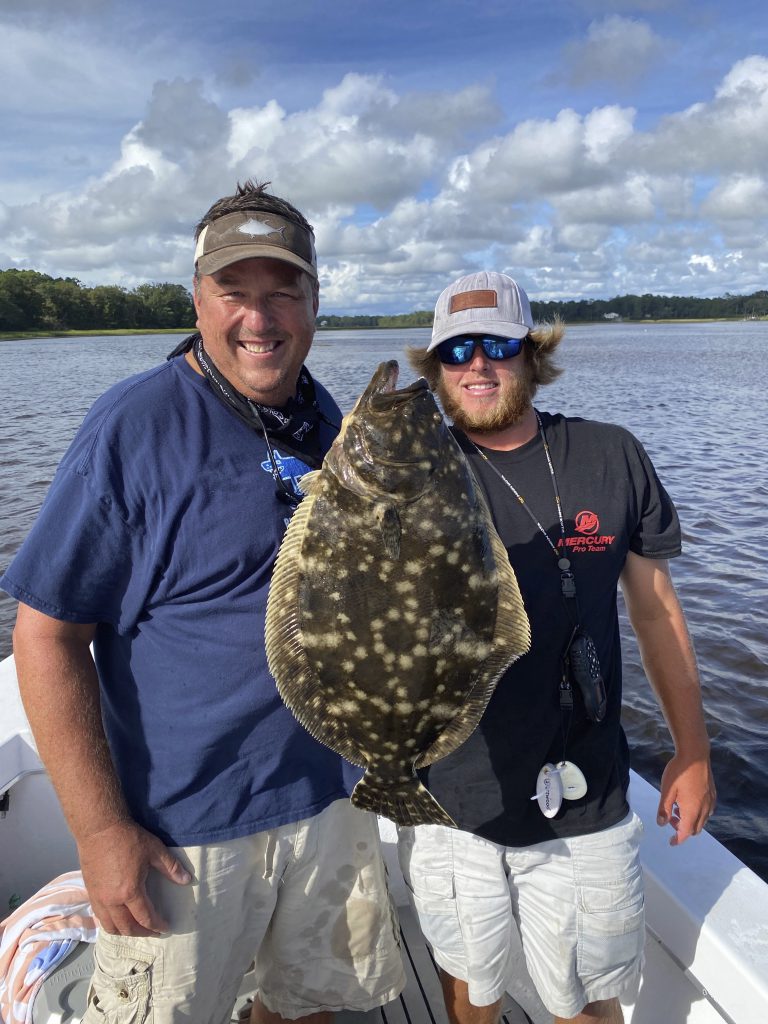 Kevin, of Rigged and Ready Charters, reports that flounder fishing has been very good in the Cape Fear and Lockwood Folly river systems. Anglers are also targeting the flatfish out to the nearshore wrecks (such as Yaupon). Carolina-rigged finger mullet and pogies are generating most of the action.
Spanish mackerel are around areas from the beach out to the 45' depths in good numbers, but many being caught are on the smaller side. Trolling Clarkspoons on #1-sized planers is the go-to setup, while slow-trolling live finger mullet has helped land the larger fish.
King mackerel fishing has been good in the 60-75' depth range and in areas such as the Jungle and Shark Hole. The fish are responding to both cigar minnows on dead bait rigs and slow-trolled live bait.
Trip, of Capt'n Hook Outdoors, reports that the end of August has seen great fishing when compared to past years. Flounder in particular have been very active for anglers targeting them on recent trips. Large flatfish (up to 5+ lbs.) are hitting live mullet around inshore holes and deeper structure.
Red drum are broken into smaller groups with the high water temperatures, but the reds are still actively hitting live shrimp and mullet.
Live shrimp fished around oyster beds or dock-like structure is producing black drum.
Speckled trout have been caught in good numbers compared to a typical summer, and this will hopefully transition into an epic fall fishery.
Tim, of Tideline Charters, reports that speckled trout fishing has been awesome all summer. This is hopefully a good measure of the coming fall season when cooler water should pull out even more fish. Live shrimp under corks fished around oyster beds on a rising tide is a great rig and a great location to start.
A lot of black drum are being caught near these same oyster beds.
Redfish are being found in good numbers, with most striking big, live mullet on Carolina rigs. Anglers have found that baits cast up against deeper banks, especially those with current, to be the most productive.
With flounder season open, look for the flatfish to hit Carolina-rigged mullet worked around creek mouths on a falling tide cycle.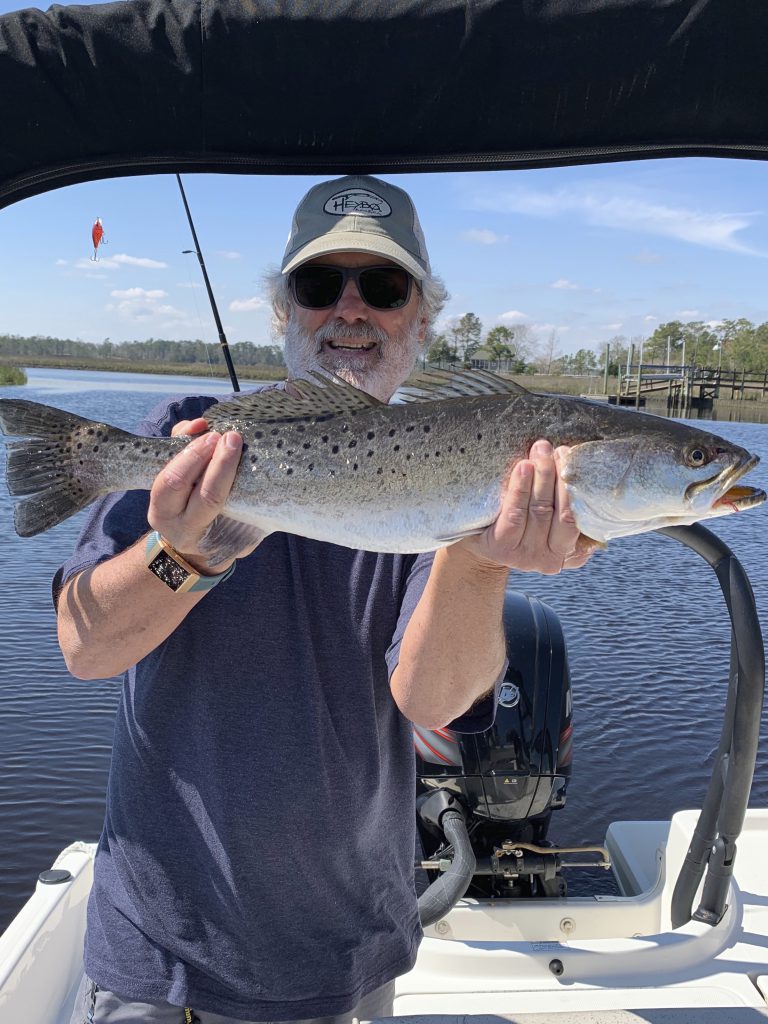 Cecil, of Rod and Reel Shop, reports that surf fishing has been a bit slow, with mainly whiting and croakers hitting bottom-rigged shrimp.
Flounder season started off with a bang, with good-sized flounder (up to 5+ lbs.) hitting Carolina-rigged live minnows fished in deep holes with structure and along grass banks. Gulp soft plastics are also producing many bites, with bright colors such as white and chartreuse producing best.
Redfish action has been strong in these same areas, with the same live bait and soft plastics producing strikes.
The speckled trout fishing continues to be steady despite being late in the season for them. Live shrimp is a trout favorite, but also favored by many smaller species that frequent inshore waters.
Nearshore anglers have been reporting king mackerel from the beaches out to nearshore wrecks, but many of these kings closer in have been smaller.
Flounder are staged on the nearshore structure, and they're hitting live mullet and bucktails.
David, of Ocean Isle Beach Fishing Pier, reports that anglers caught a good number of flounder during the opening week. Live shrimp and finger mullet on Carolina rigs seemed to be the hot setup.
Black drum were also hitting the live shrimp fished closer to the breakers.
Bottom rigs with fresh cut shrimp were landing good-sized whiting (up to 2 lbs.) and spot.