Southport/Oak Island – October 2020
Angie, of Dutchman Creek Bait and Tackle, reports that good-sized flounder are being caught both on nearshore structure and around inshore ledges on live baits and bucktails paired with curly grub jigs.
Inshore anglers are catching black drum around oyster beds and docks with bottom-rigged live shrimp.
Red drum are very prevalent inshore, with anglers getting action on live bait from the inlet back into mainland creeks.
Surf temperatures are still high, and these conditions are keeping the bite focused on the ever-present sea mullet and bluefish.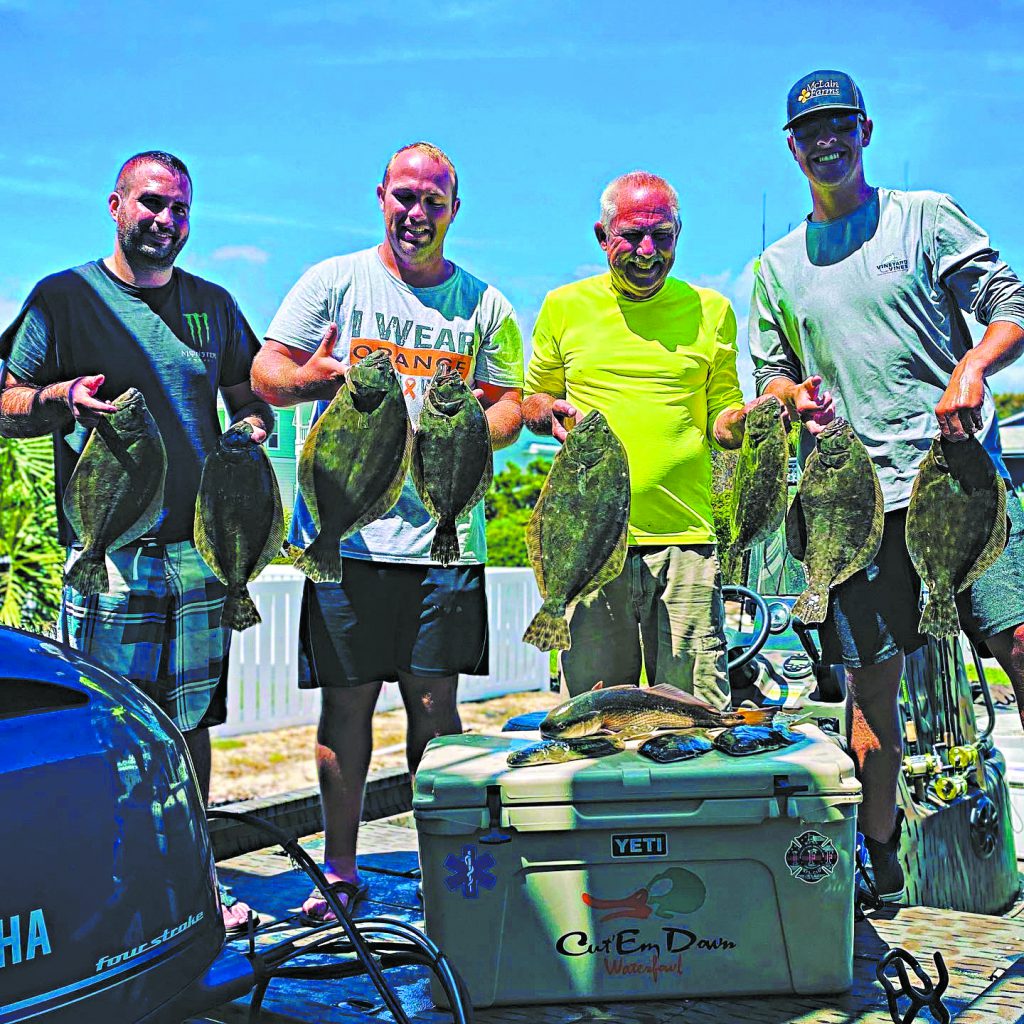 Tim, of Wildlife Bait and Tackle, reports that flounder fishing remains very good around the nearshore ARs and wrecks. The flatfish are extremely active and are hitting live bait, Gulp soft plastics, and bucktails. Anglers using the artificial baits are hooking into less non-target species that also congregate at these structures.
King mackerel are holding a bit deeper in the 12 mile range. Slow trolling live baits and pulling cigar minnows on dead bait rigs are both getting strikes.
Offshore structured areas are holding large grouper for anglers fishing live and cut baits.
Blackfin tuna have been the product of trolling ballyhoo around these deeper areas (such as the Steeples).
Red drum and speckled trout fishing are picking up around the marsh grasses in inshore waters. As the water continues to cool, both species get even more active in their feeding patterns.
Black drum and sheepshead are staged up along dock pilings and around oyster beds.
Ryan, of Conjured Up, reports that flounder fishing has been strong through to the end of keeper season. Targeting sandy bottoms near the nearshore ARs has been the prime areas, with the reefs themselves loaded up with bait stealers.
Spanish mackerel fishing is heating up as the mullet starts to flush out of the inlets. The schools of Spanish are working from the beach out to three miles, with casting jigs and live baits landing good numbers of fish.
A majority of king mackerel are still holding over deeper structure, but some fish are beginning their fall push onto the beaches. Over the next few weeks, the beach bite becomes a favorite target of local anglers looking for huge strikes on live and dead bait rigs.
Mark, of Angry Pelican Charters, reports that king mackerel fishing has been very good, though most fish are still staged further offshore (10+ mile range). All signs of bait moving inshore is pointing to fall fishing about to fire off. King mackerel see some of the largest changes, as they push onto the beachfronts to take advantage of all the bait balls. Anglers will find live baits to be most productive from now through the month.
Spanish mackerel fishing quickly recovered after the last passing storm. Trolling Clarkspoons behind planers are producing quick limits, but anglers slow-trolling live baits over the next few weeks will land some of the larger spanish mackerel.
Tough fighting sharks are holding around similar areas, and they're hitting live baits.
Inshore trips are catching good numbers of slot-sized red drum while fishing live baits along grass banks and ICW docks. Speckled trout are being caught in similar areas, with anglers looking forward better action as the water cools.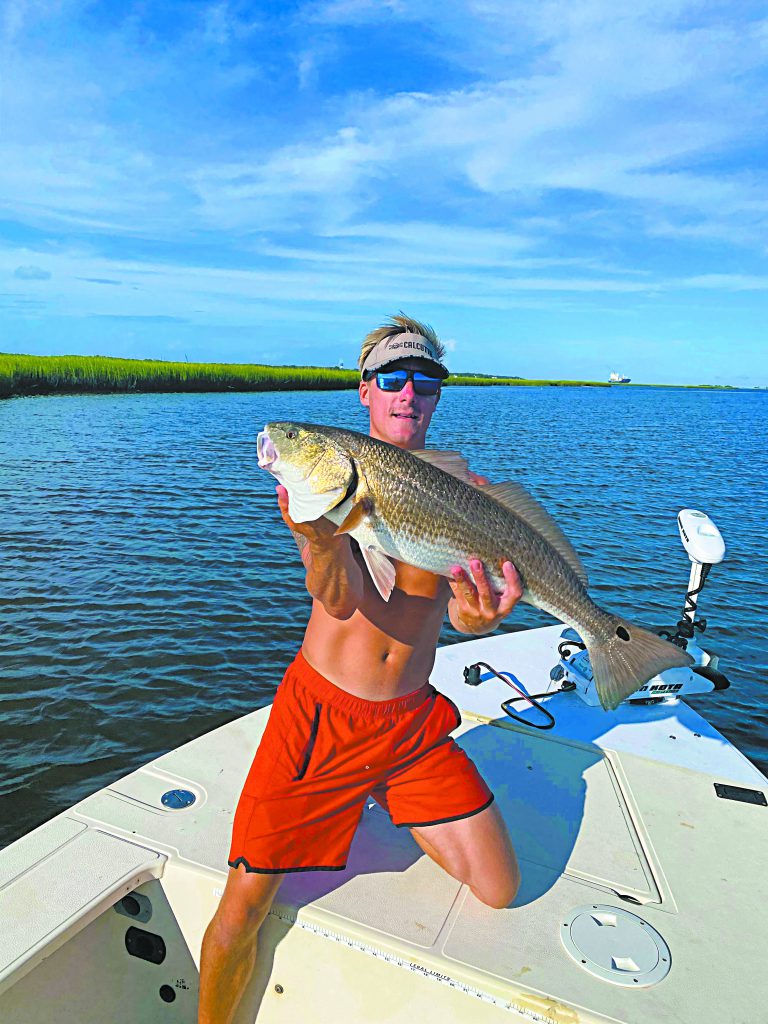 Ryan, of Fugitive Charters, reports that bottom fishing remains strong around rocks and ledges. Cut baits have been most productive in landing vermilion snapper and grouper.
King mackerel are staged above these same structured areas, and anglers have had success with leaving a free-lined live bait out while bottom fishing.
A few scattered sailfish are also hitting the live baits.
Nearshore anglers are catching good numbers of spanish mackerel with the go-to Clarkspoon and planer rigs.
Wally, of Oak Island Fishing Charters, reports that flounder fishing remains strong at both nearshore ARs and deep holes inshore. Carolina-rigged live baits are the top producing setups in both areas.
Inshore anglers have seen red drum action pick up with the mullet beginning to school up inshore. Reds are being caught along marsh grasses, creek mouths, and docks. Speckled trout are a bit scattered, but temperature changes over the next month could really fire off the bite.
Nearshore anglers are catching good numbers of spanish mackerel and scattered kings while trolling live baits. Most of the king action remains in deeper waters, but the next few weeks should see more landings along the beach.
Lynn, of Ocean Crest Pier, reports that good-sized flounder have been biting well for anglers fishing live mullet minnows on bottom rigs.
Bluefish are around as they are taking advantage of the mullet schools along the beaches. These blues are mostly hitting Gotcha plugs.
Over the next month, the bait gets more plentiful as it pushes out of the inlet. This draws many species to the pier, including bluefish, red drum, spanish mackerel, and king mackerel.
David, of Oak Island Pier, reports that anglers fishing live baits off the end have found some large kings (up to 40 lbs.).
Spanish mackerel are being caught in good numbers by anglers rigged with casting jigs. A few bluefish are mixed in the jigging bite. The blues are also hitting bottom-rigged baits.
Chunks of mullet fished on the bottom are landing large stingrays and smaller sharks.
Bottom rigs with fresh bait shrimp are producing croakers, whiting, and spot, and a few keeper flounder are mixed in with the bottom-rigged bait anglers.