Southport/Oak Island – September, 2020
Angie, of Dutchman Creek Bait and Tackle, reports that everyone has been catching good numbers of flounder since the season opened. Fishing the nearshore structure with buckails and live bait has produced most of the bites.
Spanish mackerel are hitting trolled Clarkspoons from the beach out to Yaupon Reef. On some mornings, anglers are casting glass minnow jigs to schools feeding on the surface.
Offshore fishing has mainly been producing bottom fish, with the pelagics being scattered in the hot water.
Inside the inlets, speckled trout are falling for artificial Vudu and Savage shrimp lures. Live shrimp under a cork is another great setup but produces many other unwanted species. Fishing early, before the sun heats up surrounding waters, has been better.
Red drum and flounder are hitting live mullet fished along docks and in the deeper holes in the ICW.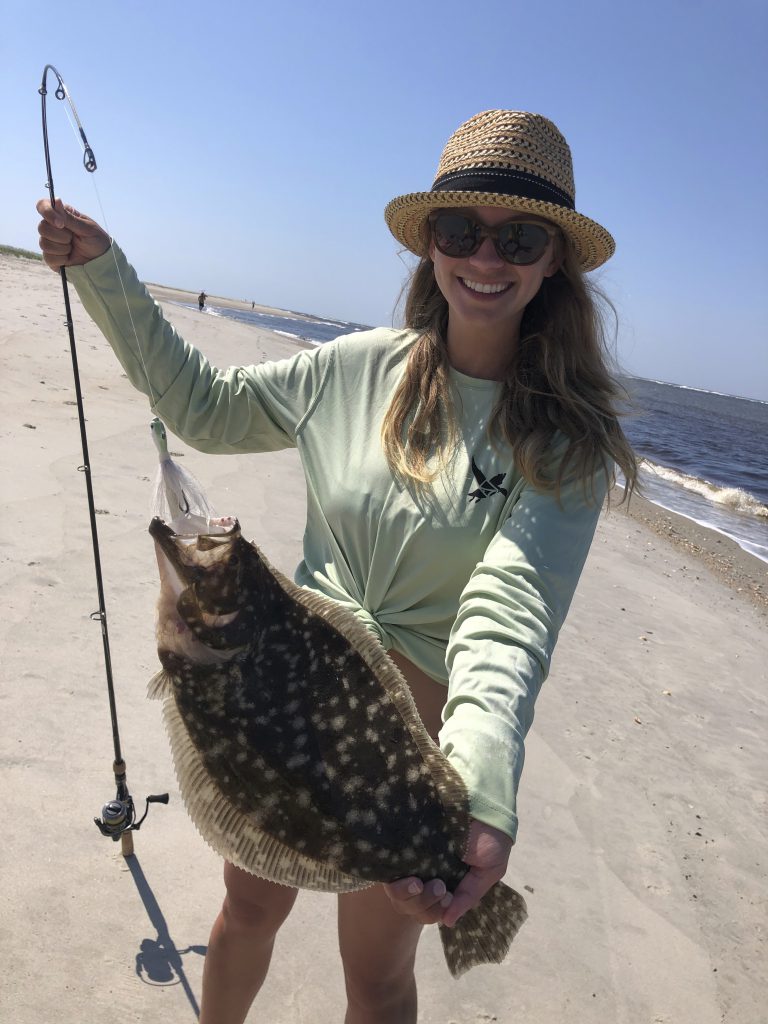 Tim, of Wildlife Bait and Tackle, reports that anglers were met with spectacular flounder fishing to start off the season. Plenty of large flatties (up to 5+ lbs.) have been caught around both inshore docks and nearshore ARs and similar structure. Bucktail jigs with soft plastic trailers are a favorite setup in the area, and they help anglers target mainly the flounder. Carolina-rigged live bait works well but, especially around reefs, can attract unwanted species.
Red drum are feeding alongside the flounder around docks in the ICW up into the river.
Nearshore anglers are catching good numbers of spanish mackerel, but they anticipate the bite really picking up as water temperatures dip.
Ryan, of Conjured Up, reports that flounder are being steadily caught from structured backwater areas out to the nearshore reefs. The best way to target them has been with Carolina-rigged finger mullet or 2 oz. bucktails with Gulp shrimp trailers.
Partly due to menhaden gathering just off the beaches, the spanish mackerel showed back up in better numbers than have been seen all summer.
A few king mackerel are being caught along the beach, as well as around structure in the 7-15 mile range.
Mark, of Angry Pelican Charters, reports that anglers are catching limits of flounder both inshore and out to the nearshore wrecks. Bottom-rigged live baits and jigs are equally getting action.
Slot-sized red drum are feeding right alongside the flatfish inside the inlets. Around docks and up against grass on higher tides have been the most productive areas.
Black drum and speckled trout are also up against the grass lines and around holes near oyster beds.
Nearshore anglers are catching good numbers of spanish mackerel and scattered kings despite the high water temperatures. The movement of finger mullet over the next few weeks should see a shift in mackerel moving closer to the beaches.
Ryan, of Fugitive Charters, reports that good-sized king mackerel (up to 30+ lbs.) are hitting live baits on drift lines in the 35 mile range.
A few sporadic dolphin are crashing the same drift lines, but with water temperatures at a summertime peak, the fish are scattered.
Bottom fishing with cut squid or cigar minnows has been producing grouper, triggerfish, and vermilion snapper.
Big spanish mackerel are hitting Clarkspoons from tidelines around the inlet out to the Bald Head shoals.
Tarpon and sharks are feeding on the schools of pogies just off the beach. Free-lining pogies has produced action from both species.
Flounder are stacked up on nearshore reefs and ARs, and they're hitting Carolina-rigged live mullet.
Wally, of Oak Island Fishing Charters, reports that anglers found the flounder ready to eat when the season opened. The flatfish are plentiful around both nearshore reefs and inshore ledges. Carolina-rigged live baits are working great in both zones, with bucktails helping lower by-catch when off the beach.
Some good-sized red drum will be alongside the flounder, and they'll be actively feeding on live mullet.
Off the beach, king mackerel have been pushed out into the 10+ mile range. Live bait has produced most of the strikes, and it may even attract a bonus cobia still around.
Ocean Crest Pier is closed for storm repairs.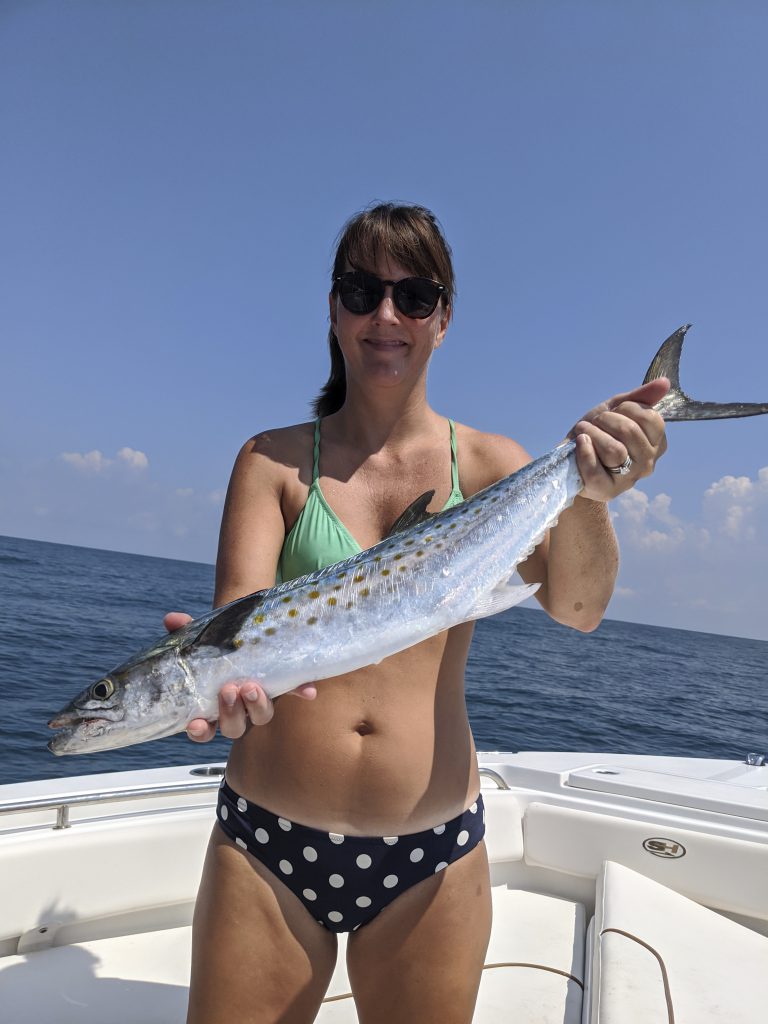 Cindy, of Oak Island Pier, reports that spanish mackerel fishing has been steady for anglers with casting jigs. On some days the action is only early and late, and on other days, anglers will see schools feeding on the surface in the mid-day heat.
Flounder fishing has been very good in the past week, with Carolina-rigged live baits producing keeper fish. A few good-sized red drum are hitting these same bottom-rigged live baits.
Fresh shrimp fished on the bottom has been getting action from spots and spadefish.