Topsail/Sneads Ferry – September, 2020
Sully, of East Coast Sports, reports that flounder fishing is on fire to kick off the season. Deeper ledges inshore out to nearshore ARs are both holding good numbers of fish. Carolina-rigged live mullet is the top setup in both zones, with bucktails matched with soft plastic trailers also getting action at the reefs.
Red drum are being caught from the surf zone to docks and holes in the ICW. In the surf, bottom rigged live and cut mullet has been the top producer, where the inshore action has been best on live bait and soft plastics.
Surf fishing has been a bit slow with the hot water temperatures. Most of the action is from sea mullet hitting bottom rigs and plenty of smaller sharks on cut bait.
Sheepshead are being caught around the area's bridges and pilings with live fiddlers and shrimp.
Nearshore anglers are catching spanish mackerel and scattered king mackerel around the local ARs.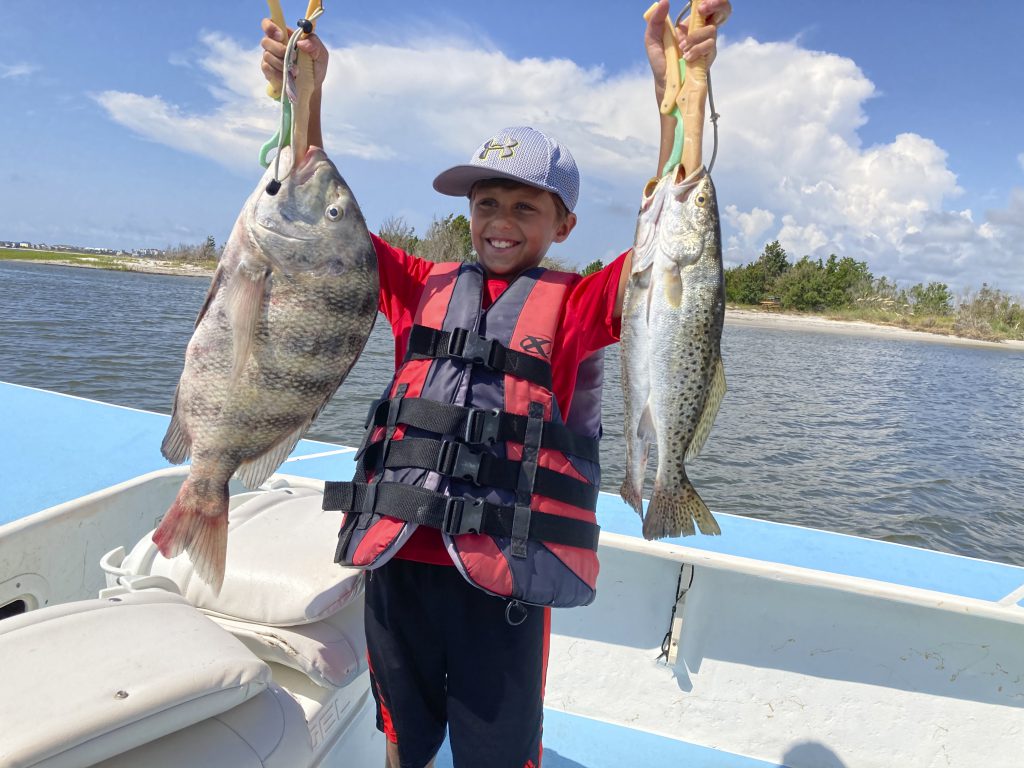 Mike, of Native Son Guide Service, reports that flounder fishing has been stellar to start the season off. Anglers at the nearshore reefs are landing their limits with Z-Man PaddlerZ and DieZel Minnows on 1.5 to 2 oz. jig heads.
Large spanish mackerel are showing up back off the beach now that waters have cleared from the last storm.
Red drum fishing has been picking up inshore. Schools of mullet are beginning to move through the area in preparation of their fall run. The drum, staged in deep holes (mostly around the ICW), are hitting live and cut baits.
A few trout are mixed in these inshore holes, with most hitting smaller Z-Man MinnowZ soft plastics.
Flounder are being caught around inshore ledges and docks with both Carolina-rigged live baits and soft plastics.
Chadwick, of South End Anglers, reports that flounder fishing has been good both inshore and on nearshore structure. Live finger mullet on Carolina rigs is the best way to consistently get bites, but artificial baits have also been very effective. Nearshore artificial strategies include 2 oz. Spro bucktails tipped with 4" Gulp shrimp or Z-Man 5" DieZel MinnowZ soft plastics.
Red drum have been biting well inshore on grass lines, oyster beds, docks, and bays. They are hitting MirrOlure Top Dog Jr., Poppa Mullets, and Catch Jr. topwater baits well in the early mornings and on overcast days. If the drum are active but not hooking up, switching over to subsurface Yo-Zuri Inshore Surface Minnows and MirrOlure Catch 2000s is a great strategy.
Carolina-rigged live mullet and pogies fished around docks and oyster beds is another tried and true method that has been effective throughout the day.
Speckled trout fishing has been better this summer than in past seasons, with a great morning bite near area inlets.
Nearshore bottom fishing has been steady, with black sea bass, grunts, triggerfish, grouper, and short cobia making up most of the action.
Trolling for spanish mackerel has greatly improved since the hurricane passed. There are quite a few small fish hitting the classic planer and spoon combination, but free-lined live pogies around nearshore structure is landing the larger spanish hanging around.
John, of One More Cast Fishing Adventures, reports that king mackerel fishing remains strong for anglers trolling a variety of cigar minnows, ballyhoo, and spoons. It has been imperative that anglers pay attention to dorsal color and lateral lines that differentiate the smaller kings from larger spanish mackerel, especially now that the two are schooled up alongside each other.
Mahi are around, and they're holding under floating trash or weeds. Skirted ballyhoo is the favorite rig when targeting the mahi. Skirt color is not always a huge factor, but generally the fish react well to pinks, greens, and blue/white skirts.
Wahoo have started showing up off the break as they move in to find bait. Fishing skirted ballyhoo behind #4-8 sized planers on bridle rigs have helped keep baits in the strike zone.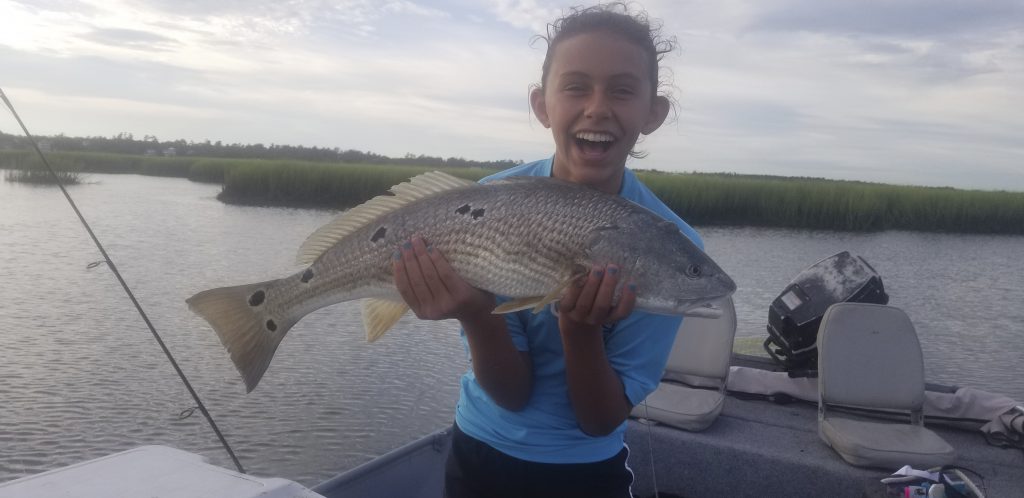 Jim, of Plan 9 Charters, reports that spanish mackerel fishing has been steady and getting better as water temperatures cool. The spanish are schooled up in 20-30' depths just off the beaches and striking Clarkspoons fished behind planers.
Good numbers of king mackerel are staged in the 10-20 mile range offshore. Trolling cigar minnows on dead bait rigs and slow-trolling live menhaden are producing the bites.
A fair amount of sailfish are being caught alongside the kings in the same depth range.
Grouper fishing has been excellent and will only get better moving into the fall. Anglers are having success with cut baitfish and squid in the 70-100' depths.
Robin, of Jolly Roger Pier, reports that large flounder (up to 6 lbs.) have been hitting live baits.
Speckled trout fishing has been surprisingly good all summer, with most being caught after dark with live shrimp.
Red drum (up to 30") are being caught with Carolina-rigged live and cut mullet.
Bottom rigs with pieces of bait shrimp or bait strips are producing sea mullet and croakers.
Spanish mackerel and bluefish are surface feeding on baits around the pier, with both species feeding best early and late in the day.
Anglers fishing live baits on pin rigs off the end are catching king mackerel and hooking a few citation-class red drum.
Vinita, of Surf City Pier, reports that anglers have been landing limits of good-sized flounder (up to 6.5 lbs.) on bottom-rigged live baits. Pompano, croakers, and spot are hitting fresh shrimp on bottom rigs.
Large spanish mackerel (up to 5 lbs.) are hitting casting jigs and live baits.
A few king mackerel (up to 36 lbs.) are being caught by anglers live-baiting off the end. A slight drop in temperature over the next few weeks could see more kings push closer into the beaches.
Tyler, of Seaview Pier, reports that the water clarity has been great around the pier. This has resulted in good numbers of spanish mackerel and bluefish for anglers casting diamond jigs and Gotcha plugs.
Flounder fishing has been awesome since the season opened, with live shrimp and mud minnows both producing strikes.
Bottom rigs with pieces of fresh shrimp are getting bit by croakers and sea mullet, and sheepshead are being landed by anglers working bottom rigs up against the pier pilings.
King mackerel fishing has been either off or on, with mid-summer water temperatures effecting the bite consistency.