Ocean Isle/Holden Beach – October 2020
Jeff, of Ocean Isle Fishing Center, reports that flounder fishing remains good inside the inlet. Carolina-rigged live mullet have been the best setup for targeting the flatfish on channel ledges, creek mouths, and docks.
Red drum are getting more active with the mullet beginning to school up and flush towards the inlet. The reds have not been bait shy and are hitting a variety of topwater plugs, soft plastics, and live and cut baits. Anglers are having success while targeting grass banks on high tide cycles and then shifting to deep holes and docks in the ICW on lower tides.
Speckled trout are still a bit scattered, but the next few weeks should see this action really kick off. Topwater action has been producing fish early, as the slightly cooler temperatures have the bite more active. When the water temperatures come off their summer highs, fishing live shrimp under popping corks will get more productive and be the favorite setup. A lot of this is due to smaller, bait-stealing fish not being as common.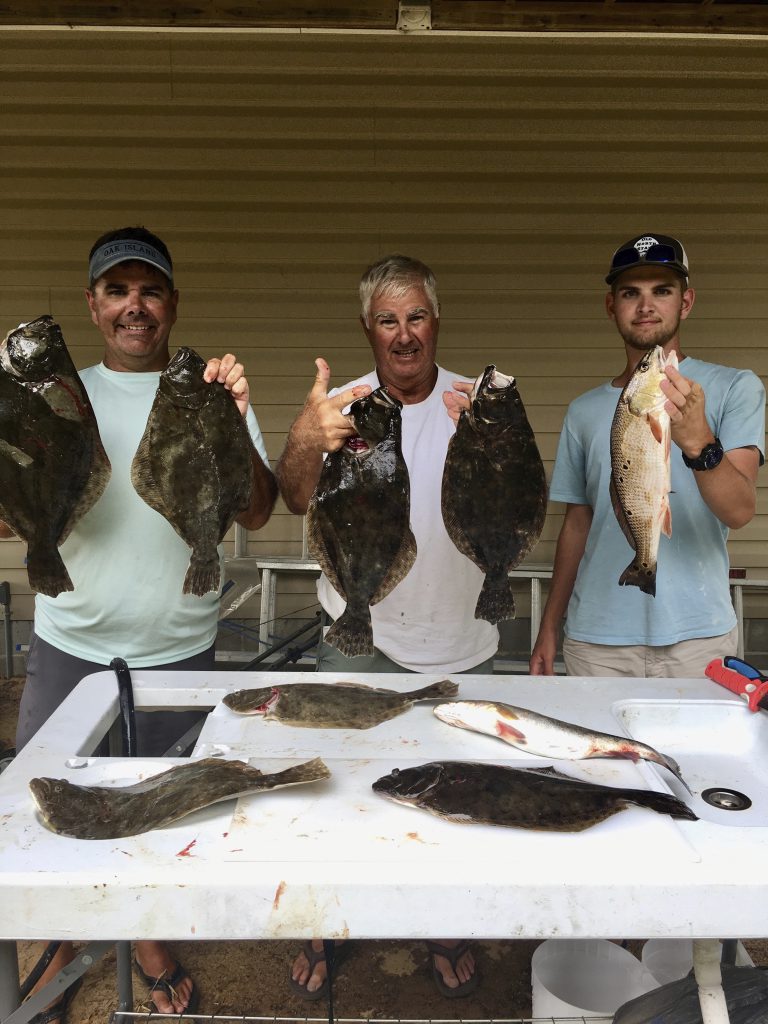 Brant, of Ocean Isle Fishing Center, reports that king mackerel action has been strong in the 70-110' range. A few fish are popping up along the beaches, but anglers anticipate better action in the upcoming weeks as water temperatures drop a bit more. Live baits are getting the most consistent strikes, with the deeper fish also hitting dead bait rigs.
Trips out to the Gulf Stream have been catching wahoo while dragging baits behind planers. Blackfin and a few yellowfin tuna are mixed in the same areas out along the break.
Bottom fishing has been producing good numbers of vermilion snapper, grouper, and large black sea bass.
Kevin, of Rigged and Ready Charters, reports that spanish mackerel fishing has been hot with the seasons beginning to shift. Fishing live mullet around nearshore reefs has been getting strikes from larger spanish pushed into the area.
King mackerel are still holding in the 15-20 mile range, with some anglers seeing fish show up along the beaches. Slow-trolling live menhaden is key to hooking into the larger kings around.
Flounder are staged up on shallow ledges from areas around the inlet out to the 30' range.
Bottom fishing deeper structure in the 100-120' range with live menhaden and cigar minnows has been producing good numbers of grouper.
Gulf stream anglers are catching wahoo with ballyhoo and Sea Witch skirts.
Trip, of Capt'n Hook Outdoors, reports that flounder fishing has tapered off a little from the first few weeks of keeper action, but Carolina-rigged finger mullet and pogies are getting strikes in local waterways.
Redfish action is hot, with plenty of slot-sized fish moving through the creeks chasing after bait schools in their fall transition. Off the beaches, citation-class reds are beginning to show up. Both the inshore and oceanfront reds are hitting live bait.
Speckled trout are falling for live shrimp under corks, and this action can be found from the mainland creek mouths out to grass banks near the inlet.
King mackerel are biting well in the 65-80' range, with a few fish beginning to show up along the beaches. Slow-trolling live pogies is the best tactic for both the nearshore and offshore kings.
Bottom fishing grouper action is best out deep (in 100-150' of water).
Tim, of Tideline Charters, reports that the redfish bite has been awesome for anglers fishing live pogies and mullet along grass banks.
Most of the action has been with these slot-sized fish, but it is now the time for citation-class red drum to run through the area. Target these big reds with beefed up live pogie rigs fished around nearshore structure and inlet ledges.
Flounder fishing remains hot around sandy ledges that have a defined drop-off. The larger 4-5" live mullet on Carolina rigs have produced the best flatfish.
Speckled trout fishing has picked back up for anglers fishing live baits under floats. Targeting areas around oyster beds on rising tides has been key.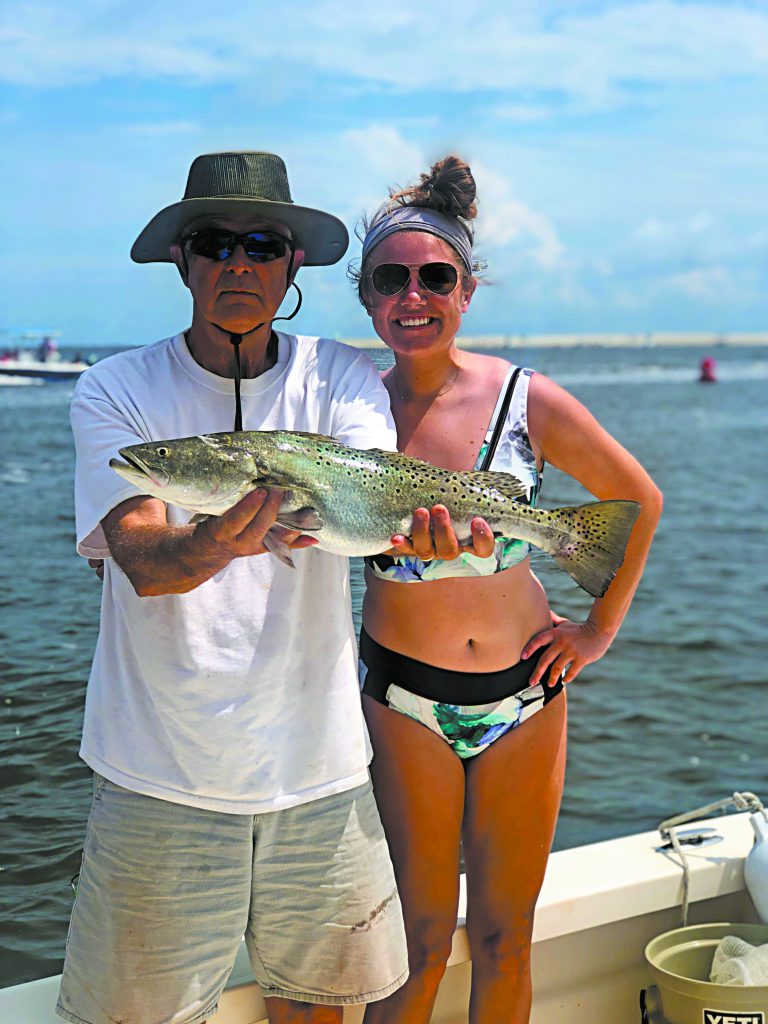 Cecil, of Rod and Reel Shop, reports that that cooler water temperatures have picked up the fishing throughout the area's waters. Good numbers of spanish mackerel are pushing onto the beaches to meet the schools of pogies. Live bait has landed some of the larger fish, with trolling and casting spoons being great for generating numbers of fish.
King mackerel are staged around structure in the 15-20 mile range. Over the next month, anglers anticipate the kings to push onto the beaches as part of their typical fall run.
Flounder are being caught on live and artificial baits along structure and ledges just off the beach. The flatfish have been actively feeding since keeper season opened, and they should continue to feed well after the closure.
Inshore, anglers are seeing the mullet start to gather in larger schools as they prepare to push out of the inlets. Targeting speckled trout and slot-sized red drum is a great idea, as both species gather in these high trafficked areas to feed.
David, of Ocean Isle Beach Fishing Pier, reports that a good run of keeper black drum are feeding on fresh bait shrimp.
Bottom fishing has been producing whiting, pompano, croakers, and sea robins.
A few keeper flounder are hitting Carolina-rigged live mullet, and anglers have landed a few large red drum with cut baits.