Pamlico/Neuse – October 2020
Donald, of Custom Marine Fabrication, reports that bluefish and speckled trout have been tearing up soft plastics along ledges and deeper holes in the river. With all the mullet and menhaden now moving around the Neuse, the trout have pulled out to creek mouths and deeper, grassy shorelines to ambush baitfish.
Flounder are also holding on these deeper ledges and shorelines, and they're hitting soft plastics dragged across the bottom.
Old drum fishing is in full swing on the lower Neuse. Popping corks paired with 5" soft plastics are the top producing setup, with some anglers also doing well while soaking fresh cut bait.
Gary, of Spec Fever Guide Service, reports that trophy red drum fishing has been great despite the winds keeping bait down in the water column. Anglers are successful in targeting ledges with the go-to popping cork and Storm soft plastic setups. Fly fishing has also been spectacular this season, with Pop 'N Fly rigs really catching ground with anglers looking to try out a unique technique.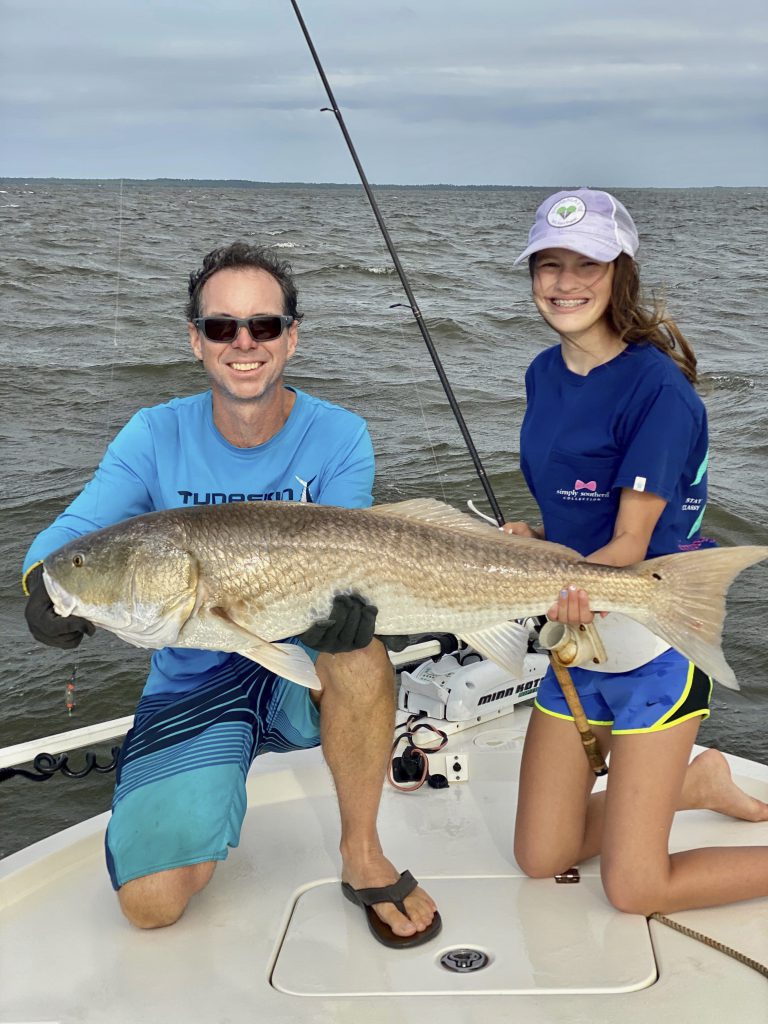 When not targeting the old drum, there has been an outstanding bite on speckled trout and slot-sized red drum. Both species are holding tighter to the grassy shorelines, which has been great for taking a break from recent strong winds.
As the water temperatures drop and weather steadies, anglers look forward to great fall fishing. The large trophy reds will hold in the river through most of the next month, and they will follow the bait as it is pushed out of the river.
Speckled trout fishing will only pick up as cooler water gets the fish more active, and a good topwater bite should be right behind the change in seasons.
James, of Neuse River Adventures, reports that topwater fishing for stripers has been great, especially with water temperatures now starting to cool. All the baitfish moving through the area have the striped bass extremely active and hitting Spook and similar plugs near shoreline structure.
A few puppy drum are striking the same topwater plugs along deeper grass banks.
Black drum numbers have been great for anglers fishing bait around docks and similar shoreline structure, and flounder are being caught with Carolina-rigged live baits and soft plastics.
Jeff, of Salt and Swamp Guide Service, reports that old drum fishing has been great from the Oriental area out into the sound. Most action has been on the classic swimbait and popping cork rigs blind-casted along shoal ledges. A few anglers are getting strikes on Rat-L-Trap and similar rattling action lures that keep baits deeper in the water column. This bite should last through October or until the bait flushes out of the river.
Fishing the river shorelines along grass and docks is producing slot-sized red drum on cut mullet.
As the temperatures cool and the season transitions into fall, anglers will look for the topwater action to fire off. A mix of striped bass, speckled trout, and slot-sized red drum will all get extremely active as they take advantage of the bait flushing out into the sound.
Todd, of Neuse River Bait and Tackle, reports that the old red drum fishing has turned on with recent east winds. Fresh cut mullet fished on the bottom around the shoals in 4-6' of water has worked very well. Many of these trophy redfish are also hitting soft plastics under Blabbermouth and Four Horseman popping corks.
Flounder fishing has been good, though there are many short fish around. Fishing Gulp shrimp or ripple mullets on 1/4 oz. jig heads has been a top setup. Mud minnows on Carolina rigs are another great rig when looking to live bait fish.
Striped bass (up to 26") are feeding well along structured shorelines in the upper Neuse near New Bern.
Slot-sized red drum are holding upriver around Broad and Goose Creek areas. Topwater plugs and Vudu Shrimp are getting strikes from the reds in both the top and mid-water column.
Richie, of East Side Bait and Tackle, reports that anglers are reporting great fishing action from the Swan Quarter area down to the sound. Flounder fishing in particular has been solid since keeper season opened. The fish are being caught with Carolina and jig head-rigged live finger mullet fished up against shorelines.
Slot-sized red drum are hitting the same live baits fished on deeper shorelines and grass banks.
The trophy red drum bite has been in full swing from the lower Pamlico and Pungo areas into the sound. Baitfish have been tough to find as they have held deep. This has made locating the big reds more difficult for anglers, but once on the fish, anglers are finding great action.
Out around the bait schools, which have held more in the sound, anglers are catching good numbers of spanish mackerel.
Speckled trout fishing is picking up in the area's creeks. MirrOlure plugs are getting good strikes, which is a bit early compared to typical seasons. Anglers anticipate a strong bite showing over the next few weeks as waters begin to cool.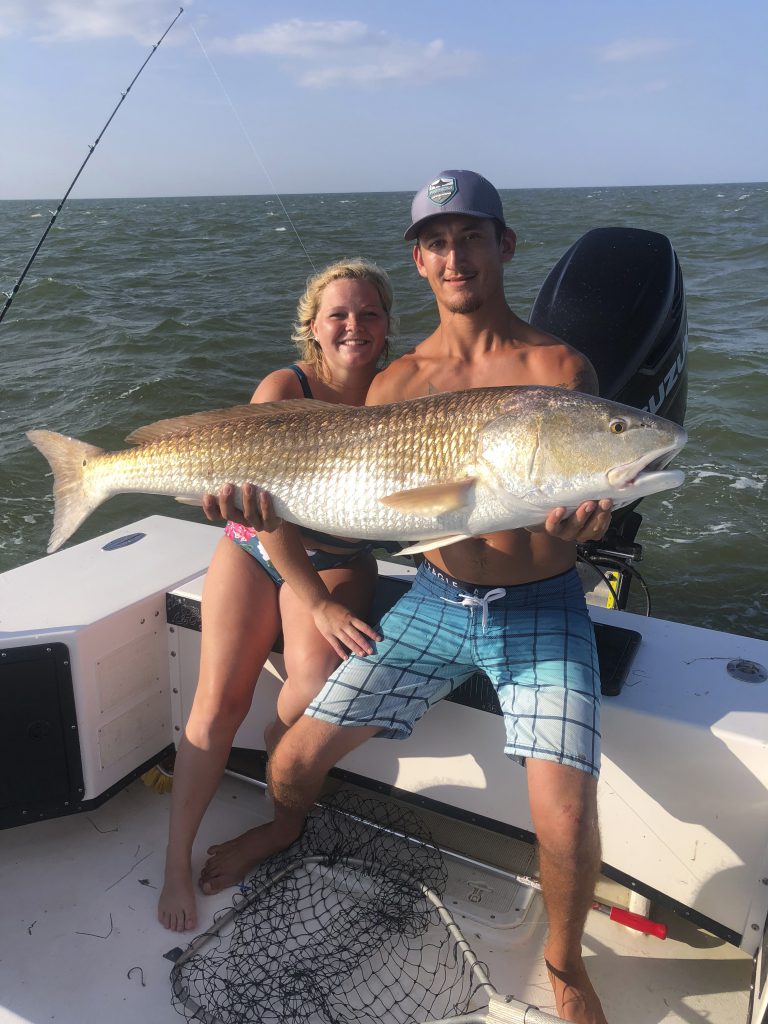 Mitchell, of FishIBX, reports that citation-class red drum fishing has been awesome with all the bait finally showing up in the area's rivers. Anglers are targeting these fish with large popping cork setups and YeeHa swimbaits when seeing bait schools on the surface. A great tactic this year has been the action on Rat-L-Traps. With much of the bait holding deeper this season, these plugs have helped anglers stay in the strike zone.
Anglers fishing the grass banks and flats on the shorelines are catching slot-sized red drum and flounder.
Speckled trout action is starting to heat up. Once anglers transition away from the old drum bite in the coming weeks, the trout are on stand-by and are active. Target these fish in creek mouths and along deeper grass banks with soft plastics under popping corks or topwater plugs.